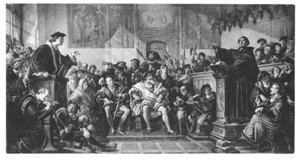 Historians and theologians are invited to join the symposium by the Volkswagen Foundation, the University of St. Andrews, and the German Historical Institute in London on September 15-17, 2016. A public lecture will be held on September 16.
The Symposium "The Protestant Reformation and its Radical Critiques" will focus on the radical currents within the evangelical movement. These currents have long been the focus of scholarly attention, but their study has been productively reconceptualized in recent decades under the impetus of gender history, global history and interest in issues of identification and belonging. Moreover, radicalism provides a forum where Anglophone, Dutch and German historiographies can be brought together in fruitful dialogue. The period we focus on extends from the radical early Reformation of the 1520s in Germany and Switzerland via Puritanism and later Anabaptism to the Pietist movement of the late 17th and early 18th centuries. A public lecture on September 16 will address the construction of radicalism from the early modern period through to the 20th and 21st centuries.
The symposium will be structured thematically around issues that cut across geographical and chronological boundaries, such as group formation, radicalism in politics, gender and family relations, missionary activity, radicalism across borders, and history writing. The global outreach of the Reformation (mainly to North America) will also receive special attention, as it is connected to a large extent to radical ideas within Protestantism.
Venue: German Historical Institute London, 17 Bloomsbury Square, London
Registration
There is no fee for attendance but registration is essential. Please register with Anita Bellamy via email (abellamy(at)ghil.ac.uk) indicating your name and institution. The deadline for registration is August 31st, 2016.